If you're not happy with the size and shape of your breasts, you're not alone. Millions of women every year undergo breast augmentation to improve their appearance and, more importantly, their self-confidence. Breast implants can be life changing. The amount of choices associated with the procedure can also be overwhelming.
At Piedmont Plastic Surgery, board-certified South Carolina breast surgeon Dr. Ted Vaughn helps simplify and take the stress out of the decision-making process by focusing on the most important aspect of your breast augmentation -- you. For a private consultation, call 864-223-0505 today.
Breast Augmentation Benefits
There are a number of reasons women choose breast augmentation, and they can be practical as well as aesthetic. Breast augmentation can:
Enlarge small breasts
Improve the shape of breasts
Achieve more attractive cleavage
Enhanced self-confidence
Improve the appearance of asymmetrical breasts
Restore breast volume lost following childbirth, weight loss or aging
Revise a previous breast augmentation
Improved appearance in lingerie and swimsuits
Am I A Breast Augmentation Candidate?
If you're in good overall health, you're likely a candidate. You should also:
Be at least 18 years old (for saline implants) or 22 (for silicone implants)
Not pregnant or breastfeeding
Have realistic expectations for the outcome of the procedure
Maintain a stable weight for at least one year
Not smoke, or be willing to quit smoking prior to surgery and throughout recovery
Have enough natural breast tissue to cover the implant
The best way to determine your candidacy is to schedule a breast augmentation consultation with Dr. Vaughn. During your consultation, he will discuss your aesthetic goals, thoroughly explain the breast augmentation procedure, perform a physical examination and develop a personalized surgical plan based on your physique. This will include a conversation about your breast implant options, such as:
Types of breast implants
Breast implant incision options
Breast implant placement options
Types Of Breast Implants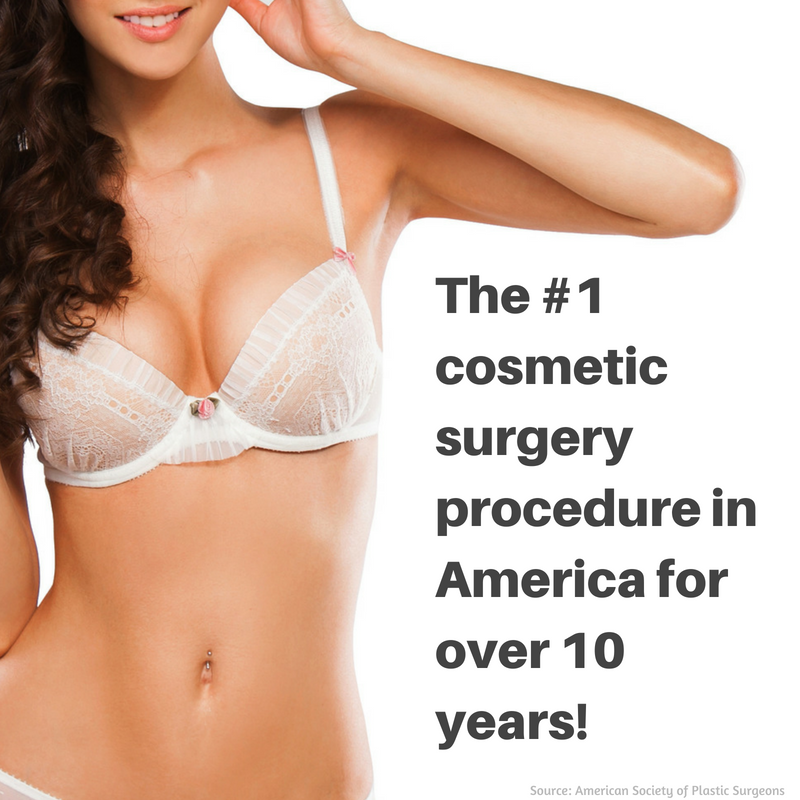 Breast implants can be made with either saline or silicone gel fillings. Each has its own benefits, and you should choose your implant type based on your aesthetic goals.
Saline implants are silicone shells that are filled with a sterile saline solution after they're implanted in the breast. This allows surgeons to use smaller incisions. They may be prone to leakage and rupture, but the saline solution is totally safe and can be naturally reabsorbed into your body. If your saline implant leaks or ruptures, you'd need to have another procedure to correct it.
Silicone implants consist of a silicone shell filled with gel. Because silicone is thicker than saline, silicone implants have a more natural look and feel. They're less prone to leakage and rupture than saline implants, and in the event of a rupture can hold their shape better.
Breast Implant Shape And Texture
You also get to pick the shape and surface of your implant. Implants come in rounded or teardrop shapes. Round are more common and eliminate the risk of an asymmetrical appearance if your implant rotates. Teardrop implants have a more natural, anatomical shape, but can lead to an unnatural appearance if they slip or rotate.
You'll get to choose between smooth or textured implants, too. Smooth implants generally last longer and have a lower risk of creating a rippled appearance on your breast. Textured implants allow your natural breast tissue to grow around the implant, greatly lowering any risk of the implant slipping or rotating.
Breast Implant Size
There are several factors that affect the size of breast implants you can receive:
Your height and weight
Your chest and breast dimensions
Skin elasticity
Your lifestyle and level of physical activity
It's important to know breast implants are measured using cubic centimeters, not cup sizes. This allows for a more uniform system of measurement, especially since cup size often differs between bra manufacturers.
Breast Implant Incision Location
You have numerous options for the location of your incisions, and Dr. Vaughn will recommend the one that best fits your aesthetic goals:
Inframammary incision: These are made in the natural folds under your breasts, where the scar will be discreetly hidden. They also better preserve nipple sensation.
Periareolar incision: These are made around the border of the nipple. They'll be hidden in the tissue around your areola.
Transaxillary incision: These are made under your armpits and result in no scarring around your breasts.
Breast Implant Placement Options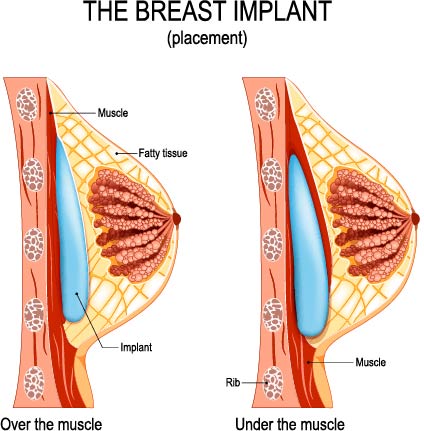 You'll have a couple different choices regarding where your implant will be placed, and Dr. Vaughn will recommend a placement based on your goals and other physical factors. The common implant placements are:
Subglandular: Your implants are placed beneath your breast tissue but above your chest muscle.
Submuscular: Your implants are placed under your chest muscles.
Dual-plane: The upper portion of your implants are placed partly under your pectoral muscles, while the lower part is above the muscle, under your breast tissue
Each placement has its own benefits. Submuscular implants typically have a more subtle, natural appearance, but they may not be suited for athletic women who exercise their chest muscles frequently.  Subglandular implants do not interfere with chest muscles and are well-suited for athletic women. Dual-plane implants give you the best of both while reducing the trade-offs.
Breast Augmentation Procedure
Although your choice of breast implant size, type, placement, and incision location will affect the specifics of your breast augmentation surgery, all procedures are performed on an outpatient basis and follow the same basic steps:
You will be administered anesthesia and made comfortable in our accredited, in-office surgical suite.
A small incision will be made and the implant will be properly positioned.
A pain pump will be inserted and the incision closed, after which you will be taken to the recovery room.
In the recovery room, you will be monitored by a nurse until you are ready to go home.
Dr. Vaughn was one of the first surgeons in South Carolina to use pain pumps during breast augmentation. He believes they greatly reduce post-operative discomfort and accelerate the recovery process.
Click here for a before-and-after gallery of some of Dr. Vaughn's breast augmentation patients.
---
Hear What Dr. Ted Vaughn's Patients Have to Say

"I had an amazing esperance! I had a breast augmentation done and Dr. Vaughn was super sweet and answered all my questions, made me feel very comfortable ! The nurses were amazing! I felt so much more than just a patient! 10/10 Would recommend." — Kassidy D.

"I can not praise Dr. Ted Vaughn enough! He can work miracles. I previously had an A cup. After my breast augmentation, I now have a cup size that looks as if God himself made my breast." — Elizabeth S.

"Dr. Vaughn is the best he takes his time and listens to what your concerns is and what you want done. My surgery went great with my breast reduction and lift plus liposuction. Dr. Vaughn will be there for you if you think something is not right and completely makes you feel comfortable." — Tawnya S.
---
Recovery After Breast Augmentation
Recovery time varies by patient and depends on a number of factors, including your natural healing ability and the particulars of your breast implant procedure. You'll experience pain for a couple days after the procedure, but it will subside. Soreness and swelling can last up to several weeks.
You'll have a compression garment to provide support and help reduce swelling. It's important to wear this until Dr. Vaughn clears you to wear sports bras. Supporting your breasts as the implants settle is essential. The sooner your swelling subsides, the sooner you'll be able to get fit for new bras.
 Here's a broad timeline for breast augmentation recovery:
1-2 weeks before you can return to work
30 days before you can wear a sports bra
6 weeks before you resume strenuous activities
3 months until you can wear regular bras
It takes time for your implants to settle and your incisions to heal. During this period, it's important to precisely follow Dr. Vaughn's post-operative instructions.
Breast Augmentation With A Breast Lift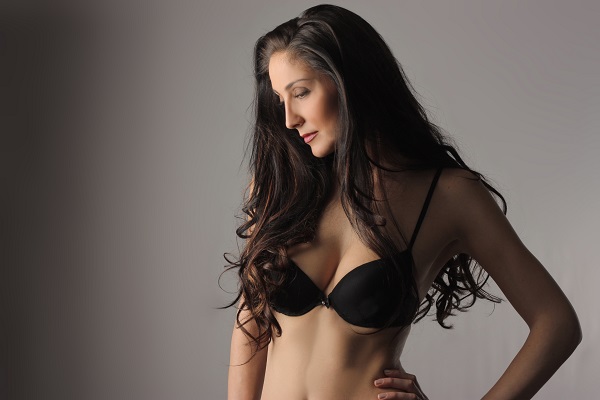 If you also experience sagging issues, Dr. Vaughn can give you a breast lift at the same time you receive implants. While the implants improve your breast size and the appearance of your cleavage, the lift can help fix:
Drooping, sagging breasts
Enlarged areolas
Nipple shape and position
A typical breast lift involves elevating the nipples and areolas to a higher position, then removing excess skin, repositioning breast tissue and reshaping breast skin for a natural look. When combined with breast augmentation, implants are typically placed in the breast before the breast lift. This is because the implant fills loose skin and reduces the amount of excess skin that has to be removed.
Breast Augmentation And Mammograms
One of the most common questions Dr. Vaughn hears during breast implant consultations is whether implants can interfere with mammograms. Augmented breasts may require adjustments from mammogram technicians, but they don't prevent an accurate screening.
It's important to tell your mammogram technician that you have breast implants so they can make the necessary adjustments. You can also make choices before the procedure that make the mammogram process even easier, such as opting for submuscular implant placement. Submuscular implants require less alteration on the part of the mammogram technician.
Breast Augmentation And Breastfeeding
Many women also ask Dr. Vaughn if their breast implants will interfere with breastfeeding. Thankfully, they don't. While a pregnant or breastfeeding woman should not get breast augmentation, the procedure doesn't affect your ability to have kids or breastfeed them in the future.
Breast implant incisions can be made in ways that don't interfere with your milk ducts, or you can opt for transaxillary incisions that avoid cutting into your breasts altogether. There is also no evidence that breast implant material can affect the quality of milk your child will drink.
Click here for more frequently asked questions about breast augmentation.
Breast Implant Revision
Breast implants are durable and last for many years, but they'll eventually wear out and need to be replaced. You won't need surgery every few years, though. If you're happy with how your breasts look and haven't experienced a rupture or capsular contracture, your implants could last up to 15 years.
These are common reasons why women opt for breast augmentation revision:
Remove and replace a ruptured implant
Improve the appearance of an unsatisfactory outcome
Improve complications such as capsular contracture
Change the size of your implants
Correct implants that have rotated
Schedule Your Greenville Breast Augmentation Consultation Today
If you would like to learn more about your breast augmentation options, contact Piedmont Plastic Surgery online or call us at 864-223-0505 to schedule your confidential consultation with board-certified plastic surgeon Dr. Ted Vaughn. We proudly serve patients in Greenwood, Greenville, Anderson, Columbia, and Laurens, South Carolina, as well as Augusta, Georgia.