Although everyone's face wears the signs of aging differently, the effects of growing older are inevitable. Skin will start to sag and become loose, deep lines and folds emerge, and a once-firm jawline may develop jowls. When it comes to turning back the clock and restoring a more youthful appearance, facelifts and neck lifts offer the most comprehensive results.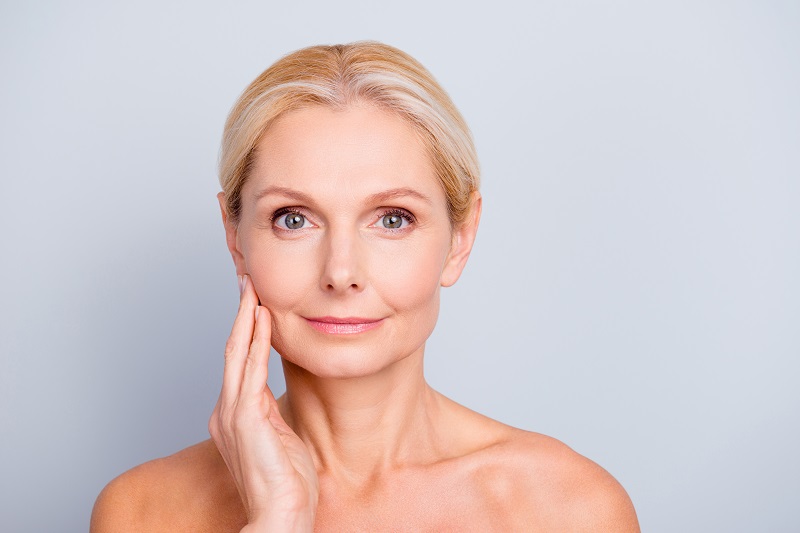 Board-certified plastic surgeon Dr. Ted Vaughn is dedicated to restoring an appearance that better reflects your inner energy and vitality. Your facelift should make you look years younger, but in a subtle way that does not make the procedure itself outwardly obvious. Dr. Vaughn has over two decades of experience helping men and women rejuvenate their features through facial plastic surgery procedures.
Contact Piedmont Plastic Surgery today at 864-223-0505 to schedule a consultation. We serve patients from Greenwood, Greenville, and Columbia, South Carolina, and nearby areas of Georgia.
What is a Facelift?
A facelift is a plastic surgery procedure designed to remove excess fat and sagging skin, tighten your underlying musculature, and smooth away folds and wrinkles. Clinically referred to as a rhytidectomy, it is performed to address nearly every visible sign of facial aging on the face and neck. A facelift can effectively achieve better facial definition and more even-textured skin, taking a decade or more off your look.
A facelift is an ideal way to correct concerns such as:
Jowls near the cheek and jaw
Mid-face sagging
Deep folds near the nose and mouth
Fallen or lost facial fat
"Turkey" neck
Drooping facial muscles
Double chin
Marionette lines
Nasolabial folds
Facelift Before and After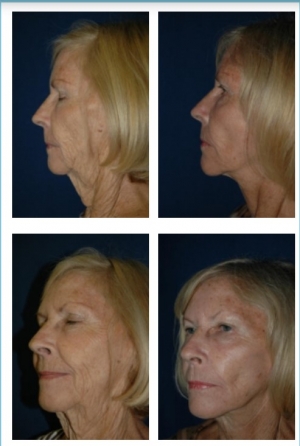 Click Here To View Our Gallery!
The Difference Between a Facelift and a Neck Lift
A neck lift is a procedure that targets the area from the jawline to the collar bone. It can eliminate the saggy bands of loose skin tissue while tightening the underlying muscles, providing you with a firmer, smoother, and better-defined jaw and neck.
A full facelift always includes a neck lift to achieve the most significant results. However, a neck lift can be performed alone, without a facelift, depending on your unique goals. At Piedmont Plastic Surgery, you also have access to leading facelift techniques — such as the mini facelift and mid-face lift — which target a specific facial area and do not address the neck.
Dr. Vaughn will discuss your facelift options in detail during your consultation. He will work with you to select the right type of facelift or neck lift based on your concerns and the results you wish to achieve.
Ideal Facelift Candidates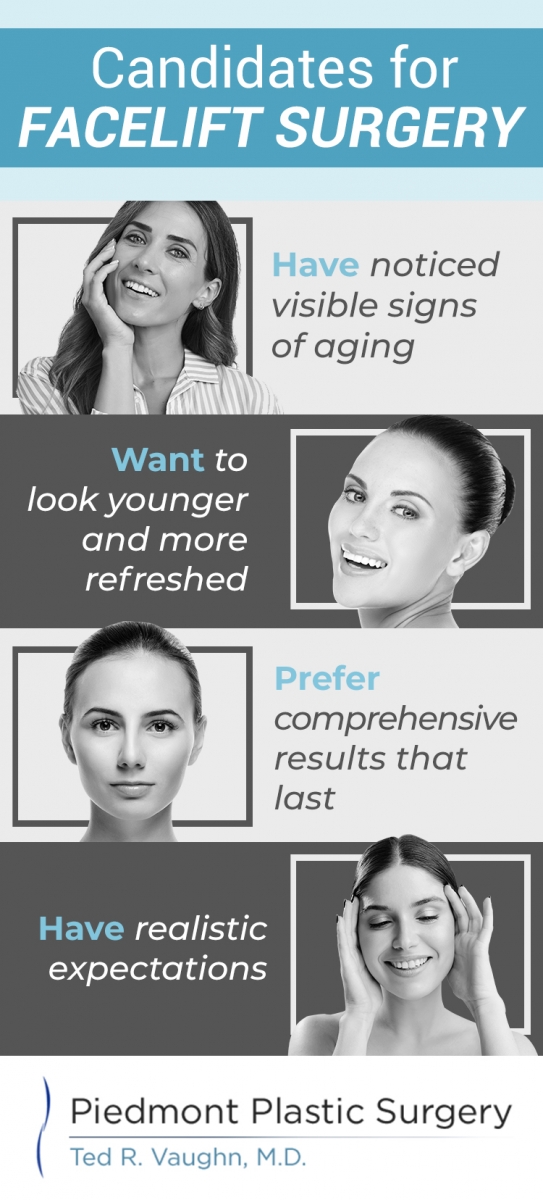 The best way to learn about your candidacy for a facelift is by scheduling a consultation with Dr. Vaughn. He will examine the degree and location of your aesthetic issues. From there, he can make personalized recommendations for accomplishing the results you desire.
Generally speaking, you may be a facelift candidate if you are in good health and have realistic expectations. This procedure is ideal if you are looking for a long-lasting facial rejuvenation option that offers significant improvement. It restores a youthful appearance that is unlike what any non-surgical anti-aging solution can offer.
Facelift and neck lift surgery can be an excellent option for men and women who want to correct visible aging from the mid-face to the collar bone.  A facelift does not address the forehead or eye area. If you have age-related concerns on these areas of the face, eyelid surgery or a brow lift may be appropriate. Dr. Vaughn can perform these procedures alongside your facelift. 
What to Expect From Facelift Surgery
Facelifts are typically performed as an outpatient procedure under anesthesia. The exact nature of your procedure will vary depending on the type of facelift and the degree of change you wish to see, as well as other factors discussed during your consultation.
Dr. Vaughn will make incisions during the procedure. Although incision placement will depend on your specific aesthetic goals and facial features, the scars from facelift procedures are typically well concealed and virtually unnoticeable. Then, he will likely sculpt facial fat, reposition underlying tissue to form a supportive structure, and redrape skin to lay smoothly over your new contours.
Facelift Recovery and Results
Most patients experience mild discomfort after their procedure which is easily controlled with pain medication. The typical facelift patient can resume work and routine daily activities within one to two weeks following the procedure. Dr. Vaughn will discuss your recovery and aftercare guidelines with you in detail.
There are a number of individual factors that affect how long the effects of your facelift will last, but if you maintain a healthy lifestyle and practice good skin care, the results should be evident for many years. Still, it's important to remember that the aging process will continue to take its progressive toll, and some patients seek revision procedures down the road. 
Schedule Your Facelift Consultation in Greenwood
If you would like to learn more about facelift and neck lift procedures, schedule your personal consultation with board-certified plastic surgeon Dr. Ted Vaughn by calling 864-223-0505. You can also fill out the consultation request form on this page, and our staff will help you set up your appointment. We welcome patients from the Greenville, Greenwood, and Columbia, South Carolina, areas, as well as Augusta, Georgia.