Perhaps your forehead and neck are showing signs of aging. Maybe your eyelids hang low, interfering with your vision and making you appear tired or angry. Or you might be unhappy with the size and shape of your nose or ears. Contact us.
With a nuanced understanding of facial anatomy supported by more than two decades of experience, board-certified South Carolina plastic surgeon Dr. Ted Vaughn is well-qualified to correct your cosmetic concerns. He provides a broad spectrum of facial plastic surgery procedures to enhance or restore your features.
Please call our office in the Greenville area at 864-223-0505 to schedule an initial consultation with Dr. Vaughn. Piedmont Plastic Surgery proudly serves patients in Greenwood and Columbia, South Carolina, as well as nearby Augusta, Georgia.
What are the benefits of Facial Plastic Surgery?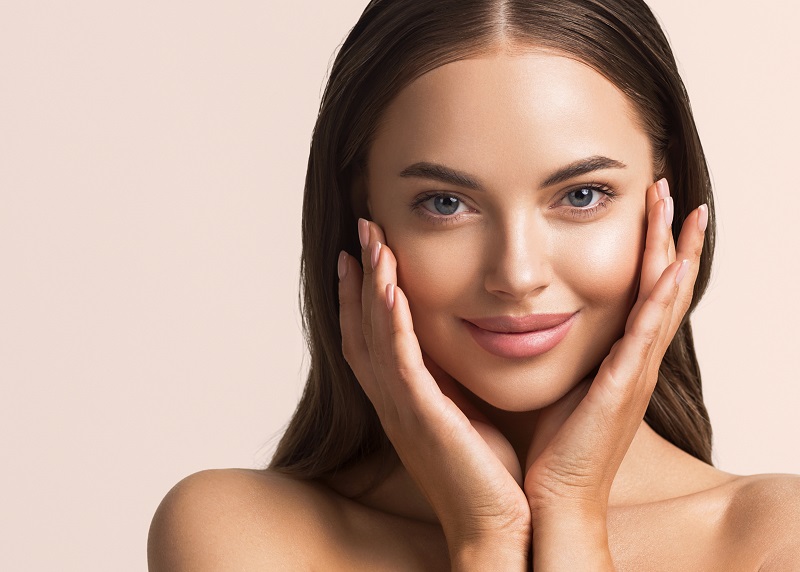 Cosmetic procedures for the face are known for accomplishing significant change. Facial plastic surgery is the preferred way to address advanced signs of aging as well as issues related to the structure of certain features. Meanwhile, non-surgical options are typically reserved for correcting minor aesthetic issues or enhancing the results of a surgical procedure.
With facial plastic surgery, patients often report benefits such as:
A noticeable correction of their cosmetic issues
Natural-looking outcomes
Long-lasting results
Improved self-confidence and self-image
Reasons to Consider Facial Plastic Surgery
People choose to undergo facial plastic surgery for many different reasons, including to:
Correct a congenital defect or deformity
Correct a facial abnormality caused by an accident
Address moderate to advanced signs of aging
Change or enhance a particular feature
Improve overall appearance
No reason is more or less valid than another. The decision to have surgery is very personal. If you feel that a certain procedure will help you feel happier about the way you look, please schedule a consultation.
Face and Neck Lift
A facelift is a procedure performed to remove excess fat and sagging skin, tighten the underlying muscles, and reduce the severity of wrinkles and folds. Meanwhile, a neck lift targets the area from the jawline to the collar bone. A full facelift always includes a neck lift, though a neck lift can be done as a standalone procedure.  
In terms of correcting the signs of aging, facelifts and neck lifts offer the most comprehensive results. These procedures are meant to take years off your appearance. The outcomes look natural and do not draw attention to the fact that you have had cosmetic surgery.
Nose Surgery
Also known as rhinoplasty or a "nose job," nose surgery is a reliable way to enhance the shape and proportion of your nose. The procedure can address nearly any issue you have with the way your nose looks.
Nose surgery is commonly done to refine bumps or depressions on the nasal bridge, reduce oversized nostrils, and generally improve the harmony between your nose and the rest of your face. It can also correct functional issues caused by a deviated septum or nasal injury.
Brow and Forehead Lift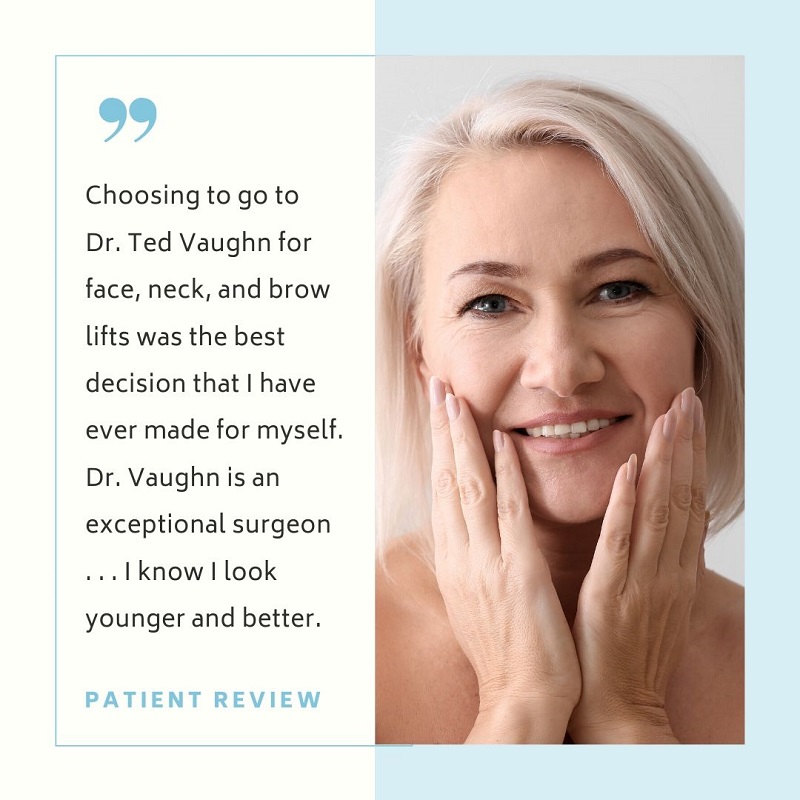 A brow lift, sometimes referred to as a forehead lift, restores a more youthful and relaxed appearance to the upper face. The procedure raises the skin and tissue of the forehead and brow area.
It can correct concerns such as low brow position and brow asymmetry. It may also lift sagging eyelids caused by a low brow. Dr. Vaughn can perform endoscopic brow lifts, which require fewer incisions and less recovery time.
Eyelid Surgery
Eyelid surgery, or blepharoplasty, is a procedure that corrects droopy eyelids. The problem with droopy upper eyelids is that they can make you look older and reduce your field of vision.
The procedure can also improve the crepey lid texture that makes makeup application difficult. Under-eye bags can be addressed as well.
Blepharoplasty often involves removing excess skin, muscle, and fat. It can correct vision problems and help your eyes look more alert.
Ear Surgery
Ear surgery, also known as otoplasty, can correct large, protruding, or misshapen ears. It is commonly performed on children. The ideal time for a child to have otoplasty is around age 5.
Adults can also get ear surgery to experience cosmetic and emotional benefits. Unfortunately, individuals with large ears may feel self-conscious or fall victim to teasing. Otoplasty can help overcome these concerns.
Patient Testimonial
"I love Dr. Vaughn and his whole staff. They are very personable, kind and so helpful throughout the whole surgery process. Dr Vaughn is very talented and knows what he is doing! He is a hidden gem in the Greenwood area."
Contact Piedmont Plastic Surgery Today
If you would like to learn if a specific facial plastic surgery procedure is right for you, please contact Piedmont Plastic Surgery online or call 864-223-0505 to schedule your personal consultation with Dr. Ted Vaughn. We welcome patients from the Greenwood, Greenville, and Columbia, South Carolina, as well as Augusta, Georgia, and the surrounding areas.