Saline and silicone implants may not last a lifetime. The typical breast implant may need to be removed and replaced approximately 10 to 20 years after breast augmentation to maintain optimal results. Sometimes, implants should be exchanged sooner to correct mild complications or aesthetic concerns. However, the most common reason to undergo breast implant exchange is to change to a different size implant.
Implants are extensively studied medical devices designed to enhance breast size and shape safely. You can expect to enjoy the results of your initial augmentation for many years. However, every woman should be aware of the potential need for breast implant exchange sometime down the road.
Learn if it may be time to replace your implants by scheduling a consultation at 864-223-0505. Board-certified plastic surgeon Dr. Ted Vaughn has the skill and experience needed to meet your ongoing breast surgery needs. Piedmont Plastic Surgery proudly serves patients from Greenwood, Greenville, and Columbia, South Carolina as well as nearby Augusta, Georgia.
What is Breast Implant Exchange?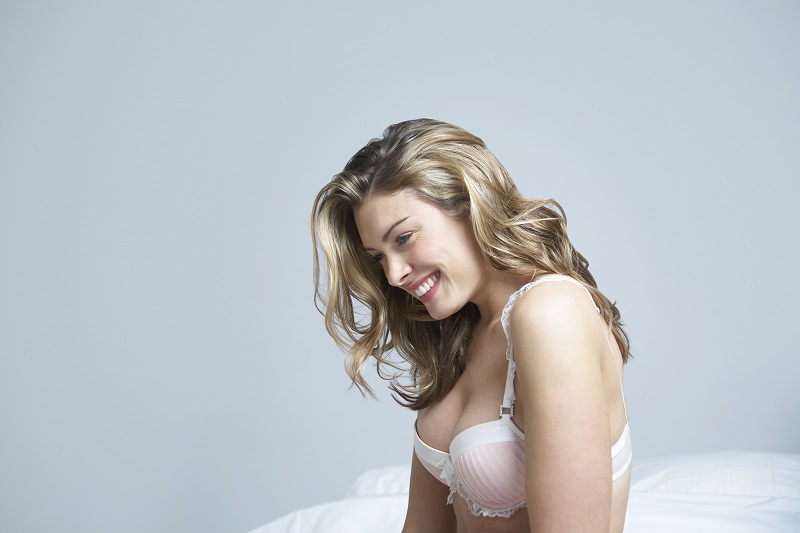 Breast implant exchange is a surgical procedure that involves removing current implants and replacing them with newer ones. Sometimes called breast implant revision surgery, the procedure is usually performed to update the implants in some way or enhance the appearance of the breasts. There may be a medical motivation behind the procedure, or it may be an aesthetically-driven decision. 
If you undergo implant exchange, you can choose to keep the same shape, style, and size implants that you had before. You also have to option to opt for something entirely different, depending on your goals. Dr. Vaughn will work with you to develop a completely individualized plan for your breast implant exchange procedure.
Common Reasons to Replace Breast Implants
There are several situations in which you may want or need to exchange your breast implants. In terms of aesthetic motivations, you may feel that your current implants no longer align with your lifestyle or personal preferences. It's completely normal to want to change the size, shape, or projection of your implants. You may also decide to make the switch from saline to silicone for a more natural look and feel.
Additionally, there are a few signs that can indicate the need for implant replacement, including:
Firmness or hardening known as capsular contracture
Implant rupture and deflation
Change in position
Visible or palpable rippling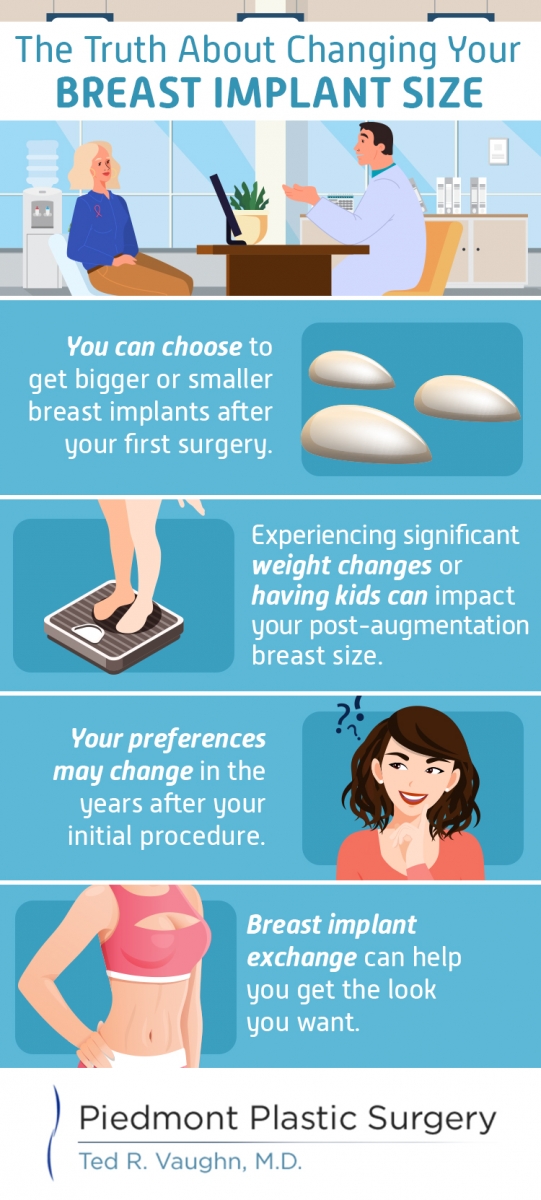 Switching From Textured to Smooth Implants
Some women may decide to exchange their implants after learning about the recent voluntary recall of BIOCELL® textured implants and tissue expanders issued by the breast implant manufacturer Allergan. Some studies have suggested a possible association between the placement of these medical devices and the development of a rare and often treatable condition called anaplastic large cell lymphoma, or ALCL.
If you have this type of implant and are considering removing it, you should know that the FDA and other health authorities do not recommend doing so unless you are experiencing symptoms. This is because there is a low risk of developing breast implant-associated ALCL. 
Ultimately, you may want to consider implant exchange if you are unsatisfied with your current breast implants for any reason. Dr. Vaughn will gladly discuss your situation and the appropriate options during a consultation.
What to Expect From Your Surgery
We typically perform breast implant exchange in our accreditied in-office surgical suite under IV sedation. The relatively straightforward surgery will involve the removal and replacement of your breast implants. Additional steps may be appropriate depending on your unique situation, including:
Reshaping the breast implant pocket
Removing scar tissue
Performing a breast lift
Breast implant exchange is a highly individualized procedure. Dr. Vaughn will let you know what you can expect from the surgery after evaluating you in person and discussing your goals.
Contact Our Greenwood Breast Implant Exchange Surgeon
At Piedmont Plastic Surgery, our philosophy to treat our patients like family guides everything we do. Dr. Ted Vaughn is committed to surpassing your expectations by providing you with compassionate, skilled care. He will listen to your goals for this procedure and explain the options that are ideal for your unique situation.
If you have questions about breast implant exchange or want to learn more about your options, please call 864-223-0505 today to schedule a consultation. We serve patients in the Greenwood, Greenville, and Columbia, South Carolina, communities, as well as visitors from Augusta, Georgia.