Regardless what exercises you may try, there aren't many ways aside from a lucky draw in the genetic lottery to achieve a perfectly rounded rear-end.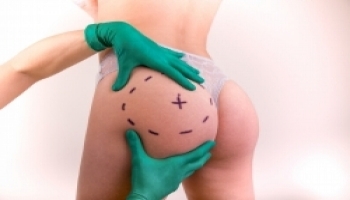 However, advancements in cosmetic surgery techniques and the use of fat transfers have led to buttock augmentation, also referred to as a Brazilian butt lift. In a buttock augmentation, board-certified South Carolina plastic surgeon Dr. Ted Vaughn uses liposuction to remove fatty deposits from a problem area such as your abdomen or hips.
How are Buttock Augmentations performed?
The fat is then purified and injected into the muscle layers of your buttocks, resulting in a contoured, voluptuous shape. Butt augmentation with fat transfer has a number of benefits over other methods, such as implants, including:
Your body will not reject its own fat
Surgery time is minimal
No risk of displacement
Are there any side effects of a Brazilian Butt Lift?
Side-effects from butt augmentation are rare, and any lingering discomfort, swelling and bruising usually subsides within several weeks following the procedure. During your personal consultation to determine whether you're a candidate for buttock augmentation, Dr. Vaughn will thoroughly review potential complications and recovery guidelines.
Patient Testimonial
"I love Dr. Vaughn and his whole staff. They are very personable, kind and so helpful throughout the whole surgery process. Dr Vaughn is very talented and knows what he is doing! He is a hidden gem in the Greenwood area."
Schedule a Client Consultation
If you live in the Greenwood, Greenville, Anderson, Columbia, or Laurens, South Carolina areas and would like to learn more about butt augmentation using fat transfer, please contact Piedmont Plastic Surgery online or call 864-223-0505 to schedule your Brazilian butt lift consultation with Dr. Ted Vaughn.