There are many choices that you will make regarding your breast augmentation procedure in order to achieve customized results that align with your aesthetic goals. Dr. Ted Vaughn will thoroughly discuss the benefits of every option to help you arrive at decisions that you feel comfortable with. You will be able to choose what your implants are made of, the implant size and placement, and the location of the surgical incisions.
Board-certified South Carolina plastic surgeon Dr. Ted Vaughn will explain your breast augmentation options during your personal consultation. Please call 864-223-0505 to schedule an initial consultation. At Piedmont Plastic Surgery we happily welcome patients from Greenwood, Greenville, and Columbia, South Carolina, as well as nearby Augusta, Georgia.
Types of Breast Implants
Breast implants are available with either saline or silicone gel solutions, both of which have their own unique benefits. Your aesthetic goals and personal preferences will play a significant role in your choice of breast implant type.
Saline breast implants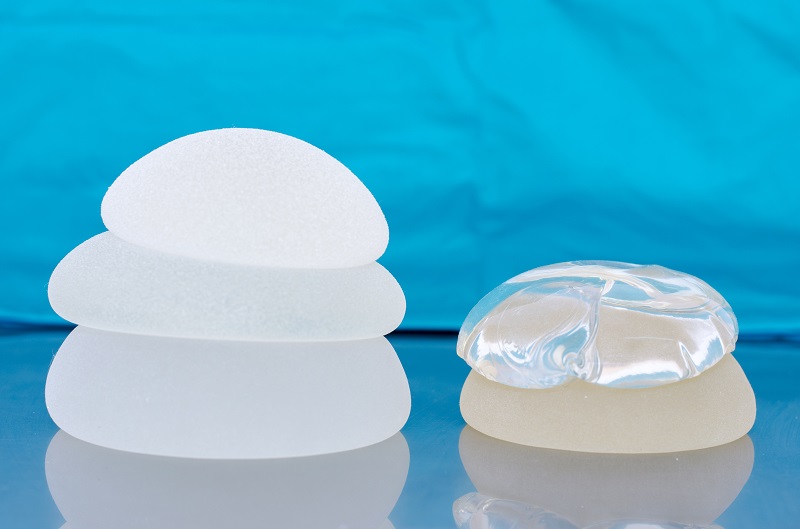 Unlike silicone implants, which are prefilled, saline implants are filled with a sterile, saltwater solution once they have been placed within the breast. This allows the use of a smaller incision as well as greater flexibility in breast implant volume. Saline implants are FDA-approved for those 18 and older.
Saline breast implants may be prone to visible rippling around the edges of the implant, which can be more evident in women who have slender physiques. Likewise, saline breast implants tend to look less natural in women who have smaller breasts or minimal breast tissue.
Although breast implant ruptures are rare in both saline and silicone implants, saline breast implants pose less risk should rupture occur because the saline solution can be naturally reabsorbed by your body.
Silicone breast implants
Due to their cohesive gel filling, silicone breast implants provide a more natural look and feel than saline breast implants. Silicone implants are FDA-approved for those 22 and older.
In addition to offering a subtle, more youthful appearance, silicone breast implants are less likely to experience rippling or wrinkling. Silicone breast implants are often the better choice for women with slender frames or smaller breasts who seek slightly fuller, naturally contoured breasts.
Implant Size
Choosing your breast implant size is a very important aspect of the augmentation process. While it can be helpful to have your desired cup size in mind, implants are not actually measured this way. Breast implants are measured by their volume in the form of cubic centimeters (cc's). Even if you have a cup size in mind, this can vary dramatically between bra manufacturers.
A consultation is the best way to determine what implant size is right for you. During your consultation, you can discuss your goals and get very specific about the results that you would like to achieve. Dr. Vaughn will also examine your anatomy, including the broadness of your chest and if you have enough tissue to cover the implant size that you desire.
Implant Placement      
Although many plastic surgeons prefer submuscular placement of breast implants, there are other options available. During your personal breast enhancement consultation, Dr. Vaughn will recommend a breast implant placement method based on your individual aesthetic goals and certain physical factors. 
There are three common methods of breast implant placement:
Submuscular: Your breast implants are placed below your chest muscles.
 
Subglandular: Your breast implants are placed beneath the breast tissue but above your chest muscles; also known as submammary placement.
 
Dual plane: The upper portion of your breast implants are placed partly under your pectoral muscles and the lower portion of your implants remain under the breast tissue.
Because no single breast implant placement method is suited for all patients, Dr. Vaughn will thoroughly discuss your breast implant placement options with you during your consultation and explain why a particular technique might be best for you.
While submuscular breast implant placement tends to contribute to a more subtle, natural appearance, it is not always the best method. Dr. Vaughn has more than 20 years of experience helping women achieve a more youthful, beautifully contoured breast augmentation results, and he will collaborate with you on a one-on-one basis to choose the right options for you.
Location of Incisions
The location of your incisions will vary based on a number of factors including the implant type, size, and placement as well as your current physical characteristics.
The most commonly performed breast implant insertion options are:
Inframammary: The breast implant incisions are made and concealed under the natural folds of your breasts.
 
Periareolar: The breast implant incisions are made and camouflaged on your areolas.
 
Transaxillary: The breast implant incisions are made and hidden within the armpits.
Scarring considerations play a large role when deciding on an incision option. Many women are concerned about lingering scars following breast augmentation, and while every type of incision will leave residual scars, each breast implant insertion option is designed to minimize scarring and conceal any visible scars.
Schedule Your Consultation Today
If you would like to learn more about your breast augmentation options, please call Piedmont Plastic Surgery at 864-223-0505 or contact us online to schedule your confidential consultation with board-certified South Carolina plastic surgeon Dr. Ted Vaughn. We proudly serve patients in Greenwood, Greenville, and Columbia, South Carolina, as well as nearby Augusta, Georgia.