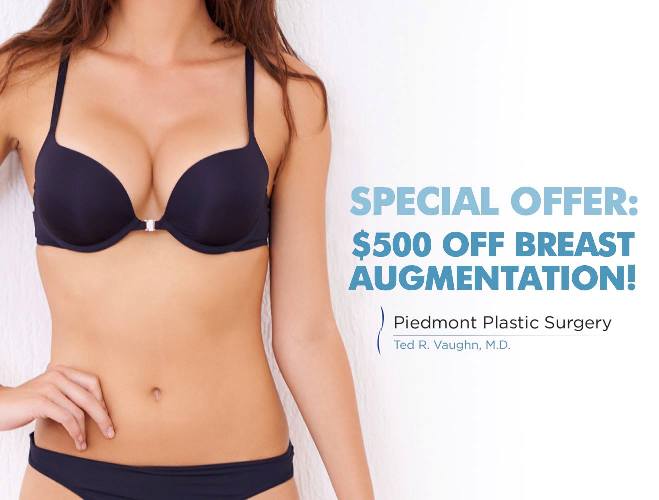 At Piedmont Plastic Surgery, we want to help make your cosmetic goals a reality. That's why we're currently offering $500 off the cost of your breast augmentation procedure.
Take advantage of this limited-time special by scheduling your surgery with our practice before March 15th, 2020. You don't have to have surgery by March 15th to receive the discount; you just need to schedule it by then. Our team will help find a date that works best for you.
Breast augmentation is an excellent way to enhance not only your proportions but also your self-image. If you are unhappy with your current breast appearance, whether due to micromastia (underdeveloped breasts), asymmetry, or a lack of volume, this surgery can help you feel more comfortable with your body.
Board-certified plastic surgeon Dr. Ted Vaughn is committed to delivering the beautiful breast enhancement results you desire. To achieve this, he will tailor the procedure to meet your unique needs. Together, you'll decide on the right implant type, shape, texture, and size, along with other individualized options.
The total cost of your procedure may vary depending on the options you select. Our team will give you a personalized estimate regarding how much you can expect to pay after the $500 discount.
Schedule Your Greenville Breast Augmentation Consultation
If you're interested in saving $500 off the cost of your breast augmentation, call our office today at
864-223-0505. Our experienced staff will help you get started by arranging your initial consultation with Dr. Vaughn. Located in Greenwood, Piedmont Plastic Surgery serves patients from Greenville and Columbia, South Carolina, as well as nearby Augusta, Georgia.